Kamináč is the outcome of a long-time vision combined with a lot of effort to create a place where everyone would feel exceptional. A place, which will connect the surrounding community while providing a welcoming … for anyone who passes by and decides to visit Kamenáč.
WE OFFER YOU A COMBINATION OF RELAXATION, NATURE AND GOOD FOOD
Kamináč is the ideal place for families that want to get together and spend their time at a shared table, as well as for pairs and individuals that want to enjoy a while outside their home with great food, quality wine, or refreshing drink.
We also thought of our youngest customers that can spend hours plying on our private playground or visit our indoor playspace dedicated to them.
Our capacity of 120 persons (70 interior seats + 50 exterior seats) makes Kamináč a suitable place for organizing various events, family meetings, christenings, burial-feasts, and company events.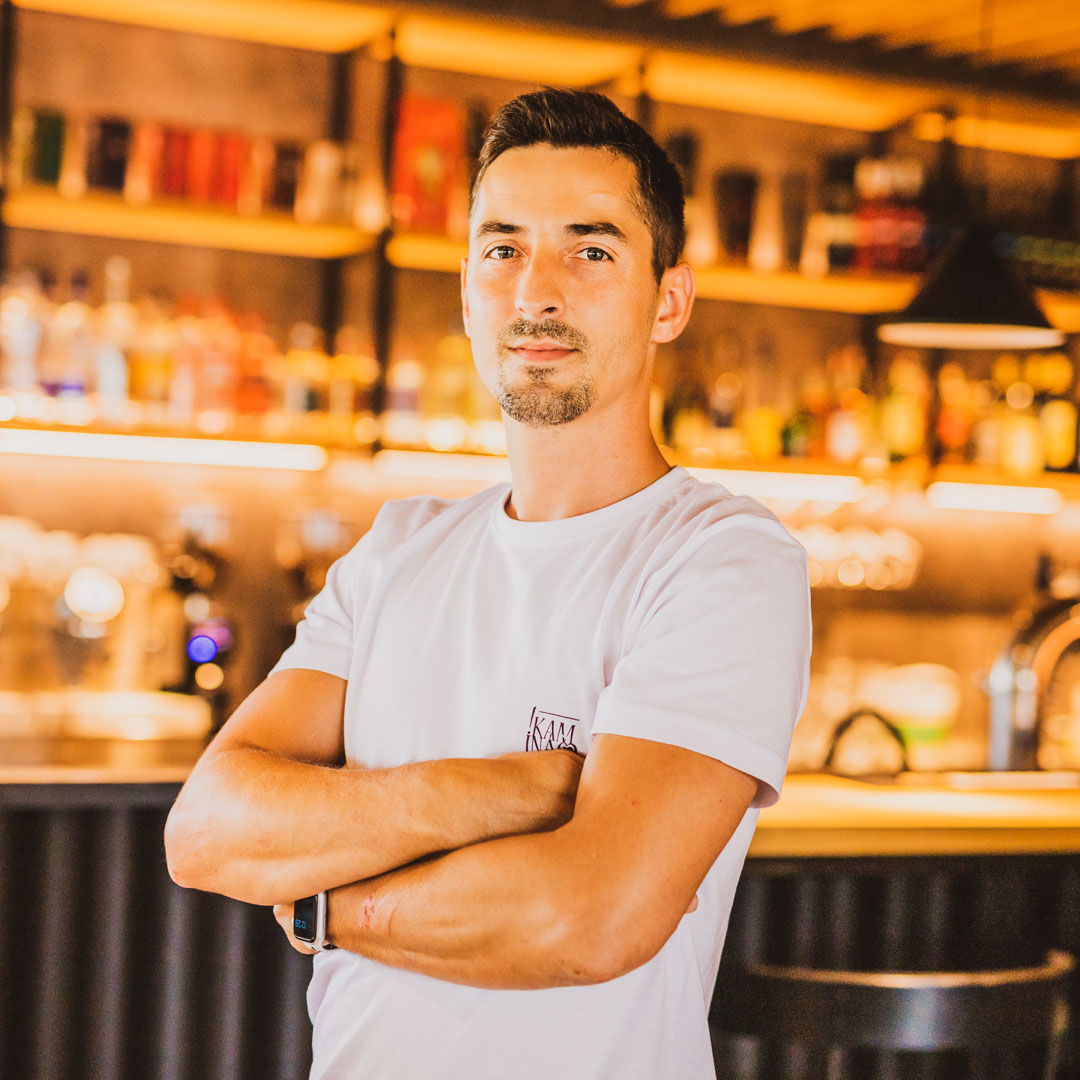 IVAN
Our local chef works in gastronomy for over 10 years. The duty of the chef fills him in every way and so he decided to show off his qualities here in Kamináč. He doesn't have a favorite meal from our menu, instead, he recommends you to try out everything as he prepares it with enthusiasm and enriches our range of products regularly.
ičo
Ičo is a professional cook that has been working in gastronomy since college. The kitchen is his laboratory and preparing delicious food is his hobby. Kamináč presents a new challenge for him, that he sees potential in. His biggest motivation is positive feedback and a happy customer.
JANČI
Janči is a waiter – professional. Rich experience has led him to Kamináč that opens up as a new opportunity for him. He likes his job mainly due to nice customers that mirror his effort to provide the best service possible. You can talk to him about fishing or traveling.
ZUZKA
Zuzka likes to try out new things which eventually led her to Kamináč. She's a happy and optimistic vegetarian that has been with us since the very beginning. Working with customers, coffee, and food fulfills her which is why she has a wide range of skills acquired from around Trnava to Bratislava.
ROMAN
Roman is a "classic" that'll surprise you with his above-standard services. Years of studies as well as experience provided him with his unique skillful, professional approach. Contact with customers and adrenaline are his motivation and passion. He chose to work at Kamináč mainly because of its family atmosphere. Because for Roman, family always comes first.
Andrej Hronček
& Peter Martiš
The founders of Kamináč are long-term friends and habitants of the "Za traťou" areal in Trnava. The absence of a place where people could meet and hang out made them come up with Kamináč, a modern high-standard restaurant for the local community as well as for any visitors that pass by.
"It took more than 5 years to turn our idea into an actual place. Today, on the street of Karola Elberta stands Kamináč, the result of honest intention to create a place with good food and a welcoming atmosphere. Our assortment is not very large, on the other hand, it is very high quality. We enrich our constant menu with seasonal specialties made by our chefs with passion. Come and see for yourself that Kamináč is a very special place that you'll love to visit for great gastronomy or relaxing environment.